Small business expert Mike Periu is a national champion for small businesses, empowering owners through motivation and financial education.
Mike is a proven entrepreneur and business leader with extensive expertise in corporate and personal finance and work experience that encompasses international business, marketing, finance and management.  He has started 3 companies in the past 14 years and is now dedicated to helping other entrepreneurs achieve their full potential.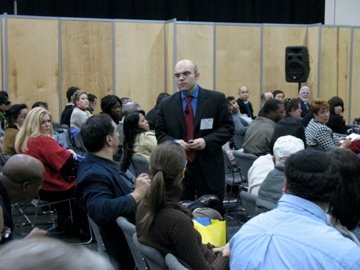 Goals
Mike's goal is to empower small business owners to realize their life goals through sound and responsible business management. He accomplishes this by providing education, training and insight on the principles of sound financial discipline and profitable growth in a simple and informal way.
Through his clear and direct style, Mike has helped thousands of consumers, entrepreneurs and business owners manage their money better, run their businesses better and given them the skills to differentiate genuine opportunities from false promises.
Small business expert Mike Periu
Mike Periu reaches tens of thousands of small business owners every month with his message of self-empowerment through financial discipline and entrepreneurship.  He has established a solid and continually growing multimedia platform focused on the U.S  general market with additional reach into the Latino community.


Previous work experience, education and civic activities
Mike founded Proximo, LLC, a developer of training and educational programs in 2002 with a focus on small business financial training, small business education and small business growth. Prior to that he co-founded Posip, a leading provider of Point of Sale (POS) and Customer Relationship Management (CRM) software in Latin America.
Mike has also served as a consultant to leading banks, telecommunications companies and other utilities in Latin America, Europe and Africa through the International Finance Corporation. He was involved in structuring acquisitions, private equity placements and privatization transactions.
Mike has degrees in Finance and International Business from Georgetown University. He is also a distinguished recipient of several awards including the Phillips Award for Entrepreneurship.
Mike is on the Board of Directors of the Council for Economic Education.
Learn more about Mike Periu
Visit my profile on LinkedIn | Connect with me on Twitter | See my profile on OpenForum